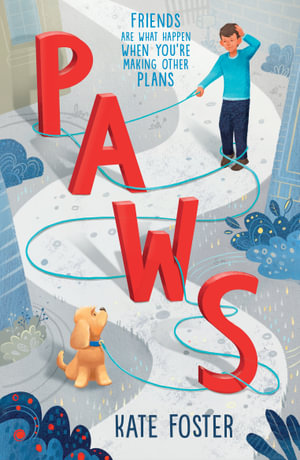 Life isn't straightforward and can be overwhelming for 11 year-old Alex who has autism. Sometimes his confusion and frustration lead him into trouble. But we can't help but connect with Alex who always means well and hates knowing that he has upset people.
Alex is desperate to win a trophy with his adorable cockapoo Kevin at the PAWS dog show because he believes that this will make people want to be his friend.
He and Kevin have been training for weeks for the tricks and obedience categories but when Alex tries to enter the events they are full and his plans are derailed.
Alex doesn't cope well with change. He needs order and predictability in his life to help him feel like he's in control so he's devastated at first.
If he's to have any hope of Kevin winning a trophy, it will have to be in a category that he hasn't previously considered. It takes great courage to step outside his comfort zone, and try something new and in the process, Alex learns that you don't need a trophy for people to want to be your friend.
Full disclosure, I love dogs and clearly the author of PAWS does too, but that wasn't the only thing that drew me to this heartwarming story.
The character of Alex is so endearing and well drawn that it felt as though he were sitting beside me as I read his story. I love his authenticity and how he grows and changes.
The writing is lyrical and beautiful and although PAWS is sensitively told, there is plenty of tension as the book moves towards the climax and we become more and more invested in Alex's story and the outcome, which isn't what you expect. The author uses gentle humour to add layers to Alex's character and his story.
This is a heartwarming story of friendship and courage from Kate Foster and Walker Books Australia.
ABOUT THE CREATION OF THE BOOK
"The author based her story on real-life experience. After adopting a spoodle called Claude, he made an immediate bond with her youngest autistic son. He seemed to sense that her son needed someone to help him always feel safe and calm. Claude knew when he was sad or stressed or anxious and would become a barrier, sitting close by, even standing over him, and comforting him.
A story that demonstrates how autistic brains don't always come with the templates of human interaction and emotion that neurotypical people usually have. And shows how many autistic people have to build these from scratch, learning through mirroring and masking and often hard emotional lessons and confusing rejection."